JUBLIA—Phase 4 pharmacokinetics in pediatric patients (aged 12-16, n=15)
Systemic exposure in pediatric patients was low with JUBLIA, which was consistent with findings in the Phase 3 adult population1,2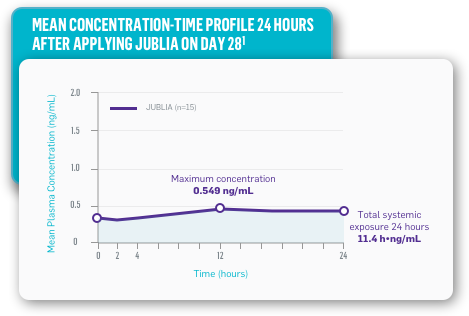 The safety and efficacy of JUBLIA were assessed in a Phase 4 multicenter, open-label, single-arm study of pediatric patients (6-16 years) with at least mild toenail distal lateral subungual onychomycosis (defined as ≥20% clinical involvement of the target toenail, without dermatophytomas or matrix [lunula] involvement) on at least one great toenail (N=60). The pharmacokinetics of JUBLIA were assessed in a subset of patients aged 12-16 years with ≥50% clinical involvement of both great toenails plus onychomycosis in ≥4 additional toenails (n=15).1
The safety and efficacy of JUBLIA were assessed in a Phase 4 multicenter, open-label, single-arm study of pediatric patients (6-16 years) with at least mild toenail distal lateral subungual onychomycosis (defined as ≥20% clinical involvement of the target toenail, without dermatophytomas or matrix [lunula] involvement) on at least one great toenail (N=60). The pharmacokinetics of JUBLIA were assessed in a subset of patients aged 12-16 years with ≥50% clinical involvement of both great toenails plus onychomycosis in ≥4 additional toenails (n=15).1
Indication
JUBLIA® (efinaconazole) topical solution, 10%, is indicated for the topical treatment of onychomycosis (tinea unguium) of the toenail(s) due to Trichophyton rubrum and Trichophyton mentagrophytes.
Important Safety Information
JUBLIA is for topical use only and is not for oral, ophthalmic, or intravaginal use.
Patients should be instructed to contact their health care professional if a reaction suggesting sensitivity or severe irritation occurs.
The most common adverse reactions (incidence ≥1%) were (vs vehicle): ingrown toenail (2.3% vs 0.7%), application-site dermatitis (2.2% vs 0.2%), application-site vesicles (1.6% vs 0%), and application-site pain (1.1% vs 0.2%).
JUBLIA should be used during pregnancy only if the potential benefit justifies the potential risk to the fetus, and should be used with caution in nursing women. The safety and effectiveness in pediatric patients below 6 years of age have not been established.
To report SUSPECTED ADVERSE REACTIONS, contact Ortho Dermatologics at 1-800-321-4576 or the FDA at 1-800-FDA-1088 or visit www.fda.gov/medwatch.
Click here for full Prescribing Information.
References: 1. Data on file. Bridgewater, NJ: Bausch Health US, LLC. 2. JUBLIA [prescribing information]. Bridgewater, NJ: Bausch Health US, LLC.