JUBLIA is an azole antifungal dosed once daily for 48 weeks for the treatment of onychomycosis of the toenail(s). The formulation properties of JUBLIA, such as low surface tension, and the low keratin binding affinity of efinaconazole, may help JUBLIA reach the site of infection when applied as directed.1-3
Reaches the nail bed via broad coverage of multiple pathways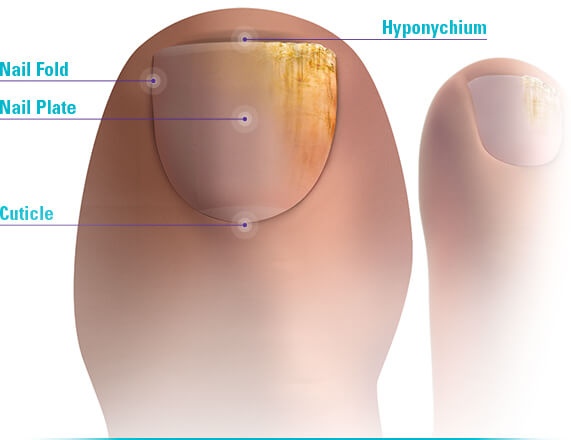 Clinical Pharmacology of JUBLIA
Efinaconazole MIC of 0.06 µg/mL1†
Low surface tension2

—Optimized with cyclomethicone and alcohol1

Low keratin affinity3
When applying JUBLIA, ensure the toenail, the toenail folds, toenail bed, hyponychium, and the undersurface of the toenail plate are completely covered.
†Efinaconazole exhibits in vitro minimum inhibitory concentrations (MICs) of 0.06 µ/mL or less against most isolates (≤90%) of Trichophyton rubrum and Trichophyton mentagrophytes. The clinical significance of these in vitro data is unknown.
Patient Questions About Jublia?
Download helpful information for your patients

Patient Brochure
This brochure contains information on onychomycosis, risk factors, and how JUBLIA works.

Download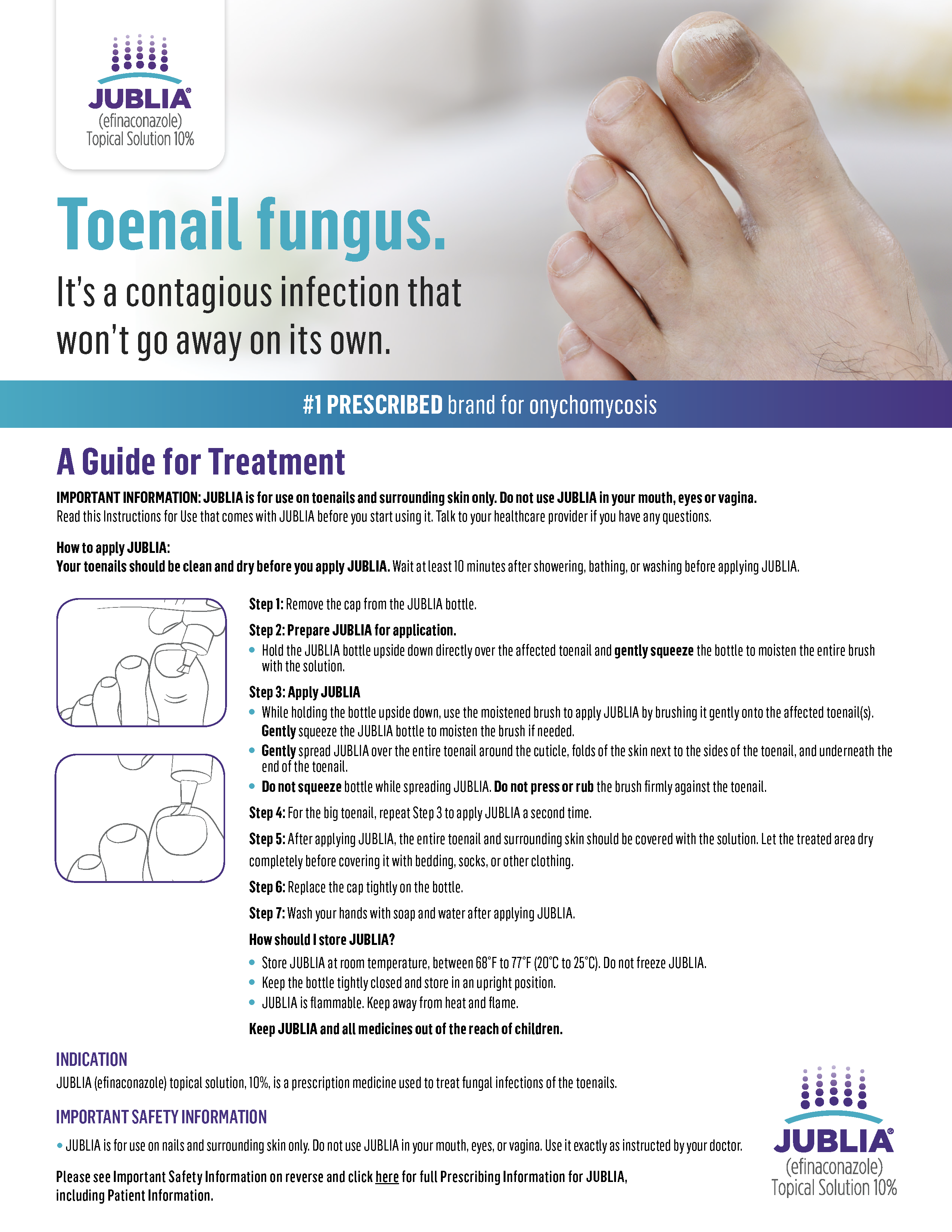 Treatment Guide
This document provides patients with information on onychomycosis and on how to use
JUBLIA properly to get the most out of their treatment. Give one of these to your patients any
time you prescribe JUBLIA.

Download
Indication
JUBLIA® (efinaconazole) topical solution, 10%, is indicated for the topical treatment of onychomycosis (tinea unguium) of the toenail(s) due to Trichophyton rubrum and Trichophyton mentagrophytes.
Important Safety Information
JUBLIA is for topical use only and is not for oral, ophthalmic, or intravaginal use.
Patients should be instructed to contact their health care professional if a reaction suggesting sensitivity or severe irritation occurs.
The most common adverse reactions (incidence ≥1%) were (vs vehicle): ingrown toenail (2.3% vs 0.7%), application-site dermatitis (2.2% vs 0.2%), application-site vesicles (1.6% vs 0%), and application-site pain (1.1% vs 0.2%).
JUBLIA should be used during pregnancy only if the potential benefit justifies the potential risk to the fetus, and should be used with caution in nursing women. The safety and effectiveness in pediatric patients below 6 years of age have not been established.
To report SUSPECTED ADVERSE REACTIONS, contact Ortho Dermatologics at 1-800-321-4576 or the FDA at 1-800-FDA-1088 or visit www.fda.gov/medwatch.
Click here for full Prescribing Information.
References: 1. JUBLIA [prescribing information]. Bridgewater, NJ: Bausch Health US, LLC. 2. Data on file. Bausch Health US, LLC. 3. Tatsumi Y, Yokoo M, Senda H, Kakehi K. Therapeutic efficacy of topically applied KP-103 against experimental tinea unguium in guinea pigs in comparison with amorolfine and terbinafine. Antimicrob Agents Chemother. 2002;46(12):3797-3801.