≈1 out of 3 patients with diabetes suffer from onychomycosis3
JUBLIA—Similar cure rates in onychomycosis patients with and without diabetes1
In a post-hoc analysis of well-controlled diabetes patients1
Complete cure* at week 52 in all patients2
STUDY 1: 18% (n=656) vs 3% in vehicle (n=214)
STUDY 2: 15% (n=580) vs 6% in vehicle (n=201)
Mycological cure‡ at week 52 in all patients2
STUDY 1: 55% (n=656) vs 17% in vehicle (n=214)
STUDY 2: 53% (n=580) vs 17% in vehicle (n=201)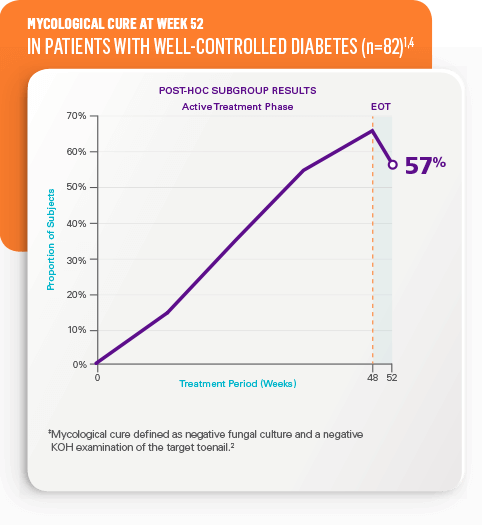 Treatment success|| at week 52 in all patients5
STUDY 1: 36% (n=656) vs 12% in vehicle (n=214)
STUDY 2: 31% (n=583) vs 12% in vehicle (n=202)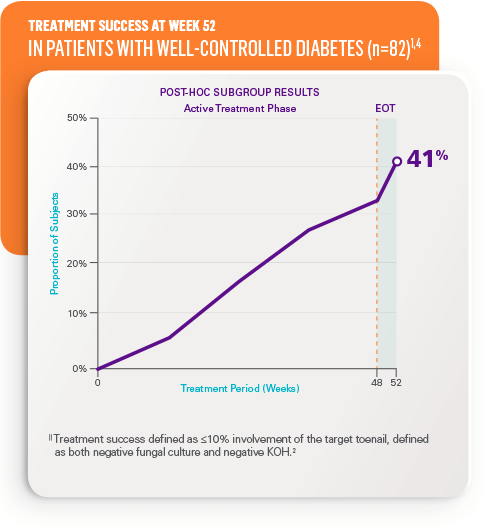 *This offer is only valid for most eligible patients with commercial insurance. Eligible uninsured patients will pay more. This offer is not valid for any person eligible for reimbursement of prescriptions, in whole or in part, by any federal, state, or other governmental programs, including, but not limited to, Medicare (including Medicare Advantage and Part A, B, and D plans), Medicaid, TRICARE, Veterans Administration or Department of Defense health coverage, CHAMPUS, the Puerto Rico Government Health Insurance Plan, or any other federal or state health care programs. This offer is good only in the U.S. at retail pharmacies owned and operated by Walgreen Co. (or its affiliates) or participating independent retail pharmacies. This offer is not valid in Massachusetts or Minnesota or where otherwise prohibited, taxed or otherwise restricted. Click here for other terms and conditions that apply.
Indication
JUBLIA® (efinaconazole) topical solution, 10%, is indicated for the topical treatment of onychomycosis (tinea unguium) of the toenail(s) due to Trichophyton rubrum and Trichophyton mentagrophytes.
Important Safety Information
JUBLIA is for topical use only and is not for oral, ophthalmic, or intravaginal use.
Patients should be instructed to contact their health care professional if a reaction suggesting sensitivity or severe irritation occurs.
The most common adverse reactions (incidence ≥1%) were (vs vehicle): ingrown toenail (2.3% vs 0.7%), application-site dermatitis (2.2% vs 0.2%), application-site vesicles (1.6% vs 0%), and application-site pain (1.1% vs 0.2%).
JUBLIA should be used during pregnancy only if the potential benefit justifies the potential risk to the fetus, and should be used with caution in nursing women. The safety and effectiveness in pediatric patients below 6 years of age have not been established.
To report SUSPECTED ADVERSE REACTIONS, contact Ortho Dermatologics at 1-800-321-4576 or the FDA at 1-800-FDA-1088 or visit www.fda.gov/medwatch.
Click here for full Prescribing Information.
References: 1. Vlahovic TC, Joseph WS. Efinaconazole topical, 10% for the treatment of toenail onychomycosis in patients with diabetes. J Drugs Dermatol. 2014;13(10):1186-1190. 2. JUBLIA [prescribing information]. Bridgewater, NJ: Bausch Health US, LLC. 3. Gupta AK, Konnikov N, MacDonald P, et al. Prevalence and epidemiology of toenail onychomycosis in diabetic subjects: a multicentre study. Br J Dermatol. 1998;139(4):665-671. 4. Data on file. Bausch Health US, LLC. 5. Elewski BE, Rich P, Pollak R, et al. Efinaconazole 10% solution in the treatment of toenail onychomycosis: two phase III multicenter, randomized, double-blind studies. J Am Acad Dermatol. 2013;68(4):600-608.