Using JUBLIA
JUBLIA (efinaconazole) topical solution, 10%, is specifically formulated to reach the site of onychomycosis, to treat toenail fungus. Follow the steps below to apply JUBLIA with its flow-through brush applicator.
JUBLIA reaches the site of onychomycosis
Below is a helpful video to assist you in the application of JUBLIA. JUBLIA should be applied once daily for 48 weeks, exactly as prescribed by your doctor to help ensure that you get the full benefit of treatment.
Reminder, JUBLIA is applied on, around, and under the nail to get the site of infection. Wait at least 10 minutes after showering, bathing, or washing before applying JUBLIA to ensure your toenails are clean and dry before application.
How to Apply JUBLIA: A Step-by-Step Guide

Remove the cap from the JUBLIA bottle.

Prepare JUBLIA for application.


Hold the JUBLIA bottle upside down directly over the affected toenail and gently squeeze the bottle to moisten the entire brush with the solution


Apply JUBLIA


While holding the bottle upside down, use the moistened brush to apply JUBLIA by brushing it gently onto the affected toenail(s). Gently squeeze the JUBLIA bottle to moisten the brush if needed.
Gently spread JUBLIA over the entire toenail around the cuticle, folds of the skin next to the sides of the toenail, and underneath the end of the toenail
Do not squeeze bottle while spreading JUBLIA. Do not press or rub the brush firmly against the toenail.


For the big toenail, repeat Step 3 to apply JUBLIA a second time.
After applying JUBLIA, the entire toenail and surrounding skin should be covered with the solution. Let the treated area dry completely before covering it with bedding, socks, or other clothing.
Replace the cap tightly on the bottle.
Wash your hands with soap and water after applying JUBLIA.
How should I store JUBLIA?
Store JUBLIA at room temperature, between 68°F to 77°F (20°C to 25°C). Do not freeze JUBLIA.
Keep the bottle tightly closed and store in an upright position.
JUBLIA is flammable. Keep away from heat and flame.
Keep JUBLIA and all medicines out of the reach of children.
Sticking With Treatment
JUBLIA should be applied once daily for 48 weeks, exactly as directed by your doctor. It may be useful for you to establish a routine to help you stick to your treatment.

†Wait for at least 10 minutes after showering, bathing, or washing before applying JUBLIA.
Ask your doctor if JUBLIA is right for you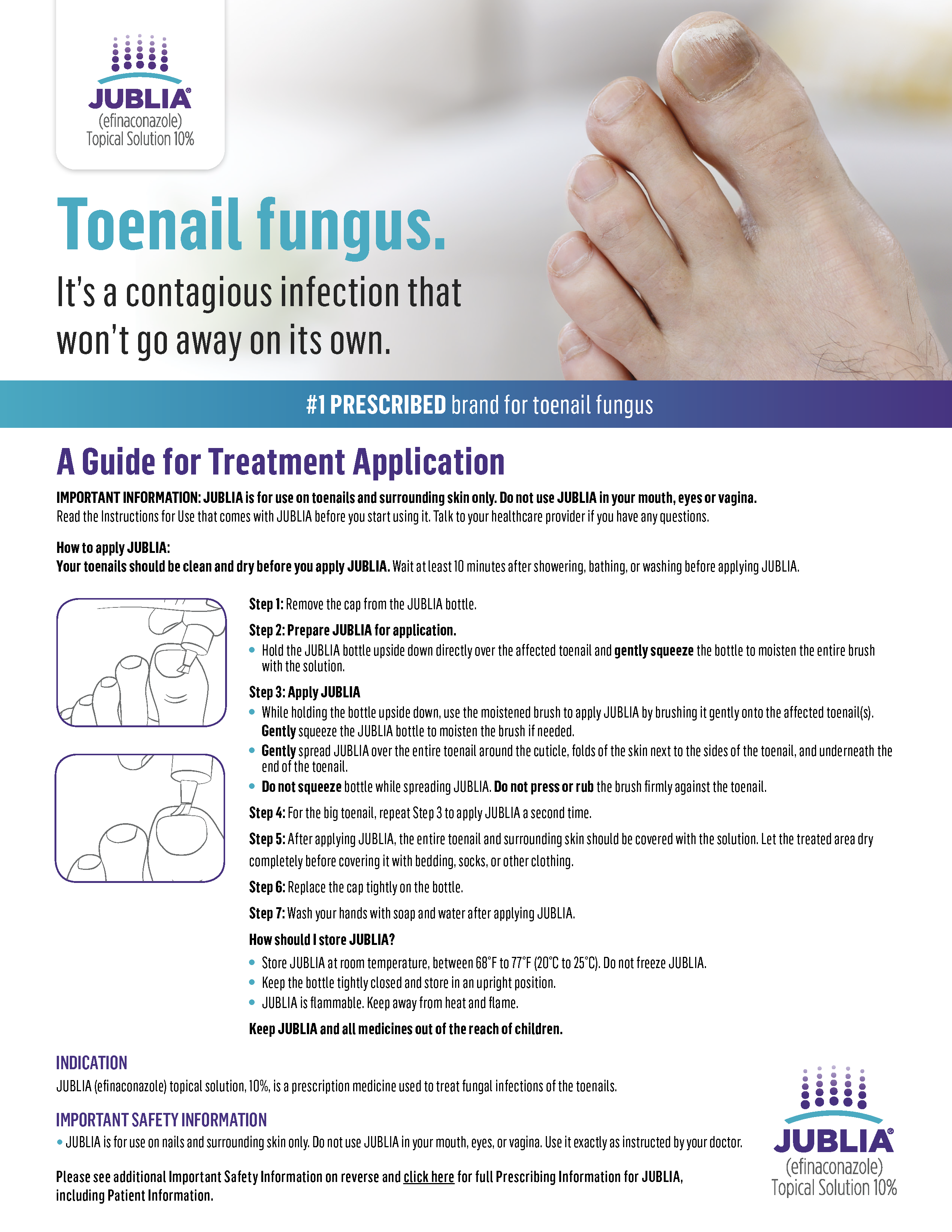 Starting treatment?
Get instructions for the best use of JUBLIA.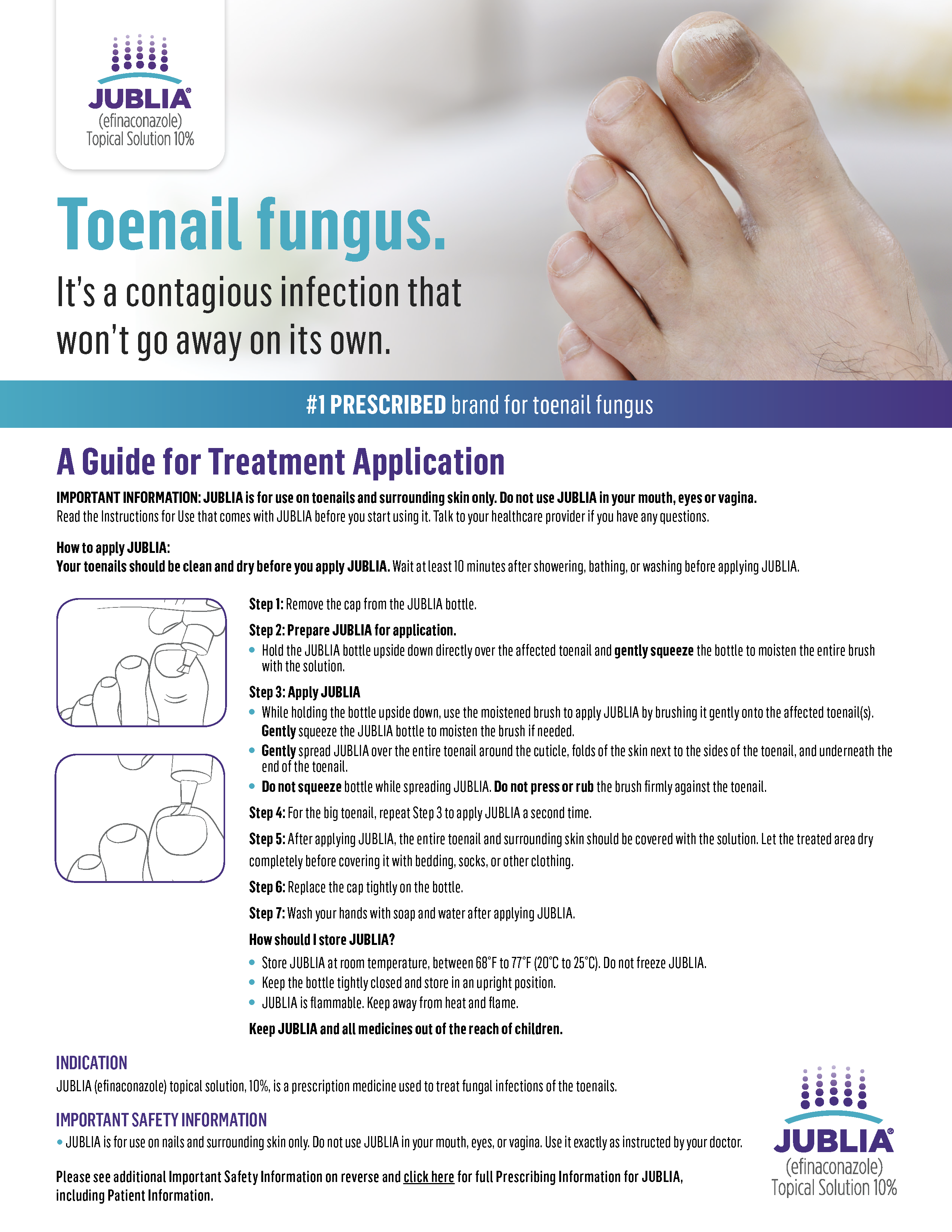 Treatment Guide
This document provides information on toenail fungus and on how to use JUBLIA properly to get the most out of treatment.

Download
Get JUBLIA!
*This offer is only valid for eligible patients with commercial insurance. Eligible uninsured patients will pay more. This offer is not valid for any person eligible for reimbursement of prescriptions, in whole or in part, by any federal, state, or other governmental programs, including, but not limited to, Medicare (including Medicare Advantage and Part A, B, and D plans), Medicaid, TRICARE, Veterans Administration or Department of Defense health coverage, CHAMPUS, the Puerto Rico Government Health Insurance Plan, or any other federal or state health care programs. This offer is good only in the U.S. at retail pharmacies owned and operated by Walgreen Co. (or its affiliates) or participating independent retail pharmacies. This offer is not valid in Massachusetts or Minnesota or where otherwise prohibited, taxed or otherwise restricted. Go to ActivateJubliaSavings.com for other terms and conditions that apply.
INDICATION
JUBLIA (efinaconazole) topical solution, 10%, is a prescription medicine used to treat fungal infections of the toenails.
IMPORTANT SAFETY INFORMATION
JUBLIA is for use on nails and surrounding skin only. Do not use JUBLIA in your mouth, eyes, or vagina. Use it exactly as instructed by your doctor.
It is not known whether JUBLIA is safe and effective for use in children under 6 years of age.
Before you or your child uses JUBLIA, tell your doctor about all medical conditions, including if you are pregnant, are breast feeding, or plan to breastfeed, because it is not known whether JUBLIA can harm an unborn fetus or nursing infant.
Tell your doctor about all medications you or your child is taking, and whether you or your child has any other nail infections.
JUBLIA is flammable. Avoid heat and flame while applying JUBLIA to your toenail.
JUBLIA may cause irritation at the treated site. The most common side effects include: ingrown toenail, redness, itching, swelling, burning or stinging, blisters, and pain. Tell your doctor about any side effects that bother you or do not go away.
To report SUSPECTED ADVERSE REACTIONS, contact Ortho Dermatologics at 1-800-321-4576 or the FDA at 1-800-FDA-1088 or visit www.fda.gov/medwatch.
Click here for Prescribing Information, including Patient Information.