If you've got toenail fungus, you're not alone
Onychomycosis (on-ick-oh-my-CO-sis), a condition that may involve the toenails or fingernails, is relatively common. It may affect as many as 35 million people in the US — but toenail infections are particularly common. JUBLIA is indicated for onychomycosis of the toenail only.
What is toenail fungus?
Toenail fungus is an infection that lives underneath the nail, in the skin of the nail bed. Toenail fungus is more than a cosmetic concern.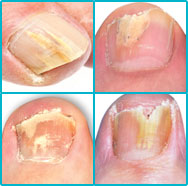 Symptoms of toenail fungus may include:
Thickening of the nail
Discoloration
Change in nail shape
Loosening/lifting of nail
Brittleness
Crumbling of nail edges
Contributing Factors
Factors that can increase the risk of developing toenail fungus include:
Wearing closed-toe shoes
Getting pedicures with improperly sanitized tools
Having a chronic illness, such as diabetes or HIV
Having a deformed nail or a nail disease
Treatment Challenges
Several things make it especially challenging to treat toenail fungus:
The thickness of the nail can pose a barrier between treatment and the fungus under the nail.
Additionally, the time it takes for a healthy nail to grow back varies from person to person. Even after the fungus has been eliminated,

nail regrowth can sometimes take a year or longer.

Recurrence is a common problem with onychomycosis.

Ready to treat it with JUBLIA?
Learn more about how JUBLIA works.

Patient Brochure
This brochure contains information on toenail fungus, risk factors, and how JUBLIA works.

Download
Get JUBLIA!
INDICATION
JUBLIA (efinaconazole) topical solution, 10%, is a prescription medicine used to treat fungal infections of the toenails.
IMPORTANT SAFETY INFORMATION
JUBLIA is for use on nails and surrounding skin only. Do not use JUBLIA in your mouth, eyes, or vagina. Use it exactly as instructed by your doctor.
It is not known whether JUBLIA is safe and effective for use in children under 6 years of age.
Before you or your child uses JUBLIA, tell your doctor about all medical conditions, including if you are pregnant, are breast feeding, or plan to breastfeed, because it is not known whether JUBLIA can harm an unborn fetus or nursing infant.
Tell your doctor about all medications you or your child is taking, and whether you or your child has any other nail infections.
JUBLIA is flammable. Avoid heat and flame while applying JUBLIA to your toenail.
JUBLIA may cause irritation at the treated site. The most common side effects include: ingrown toenail, redness, itching, swelling, burning or stinging, blisters, and pain. Tell your doctor about any side effects that bother you or do not go away.
To report SUSPECTED ADVERSE REACTIONS, contact Ortho Dermatologics at 1-800-321-4576 or the FDA at 1-800-FDA-1088 or visit www.fda.gov/medwatch.
Click here for Prescribing Information, including Patient Information.