Talk to a Doctor to see if JUBLIA is right for you
JUBLIA requires a prescription from a healthcare provider.
Talk to a Doctor Now
Start your online consultation.
by clicking the Start my visit button below you acknowledge and agree that you will be directed to a third party website, Populus, to connect you with a telemedicine provider. Populus is an independent entity and is neither owned nor operated by Ortho Dermatologics or Bausch Health, and our Privacy Policy and other rules do not apply. Ortho Dermatologic/Bausch Health does not endorse or recommend Populus, the qualifications of any physician associated with Populus, or the quality of medical care any of those physicians can provide. Ortho Dermatologics/Bausch Health cannot guarantee that using Populus will result in your desired outcome. It is your responsibility to assess the qualifications of a potential physician and we recommend that you discuss the benefits and risks of all potential treatments with your doctor.
"Please be aware that Populus charges a fee for its telemedicine services and does not accept insurance."
Get Support
Questions about JUBLIA or the prescription process? Connect with a navigator today.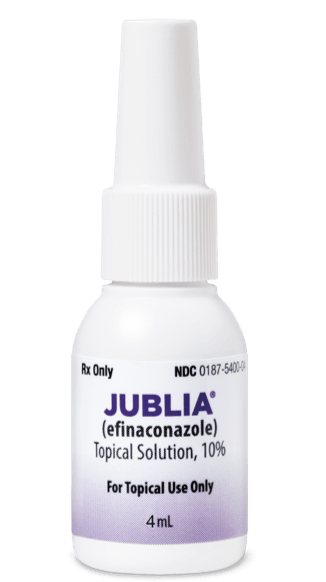 JUBLIA (efinaconazole)
topical solution, 10%, 4 mL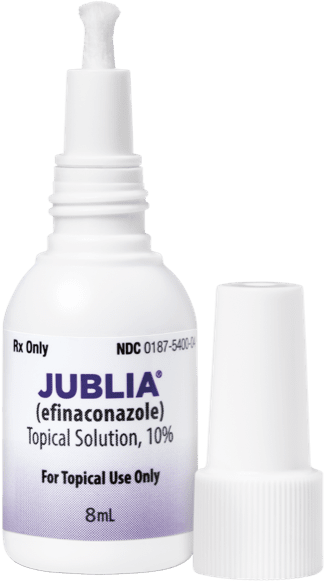 JUBLIA (efinaconazole)
topical solution, 10%, 8mL
JUBLIA is an FDA-approved prescription topical solution that is applied on, around, and under the toenail.
INDICATION
JUBLIA (efinaconazole) topical solution, 10%, is a prescription medicine used to treat fungal infections of the toenails.
IMPORTANT SAFETY INFORMATION
JUBLIA is for use on nails and surrounding skin only. Do not use JUBLIA in your mouth, eyes, or vagina. Use it exactly as instructed by your doctor.
It is not known whether JUBLIA is safe and effective for use in children under 6 years of age.
Before you or your child uses JUBLIA, tell your doctor about all medical conditions, including if you are pregnant, are breast feeding, or plan to breastfeed, because it is not known whether JUBLIA can harm an unborn fetus or nursing infant.
Tell your doctor about all medications you or your child is taking, and whether you or your child has any other nail infections.
JUBLIA is flammable. Avoid heat and flame while applying JUBLIA to your toenail.
JUBLIA may cause irritation at the treated site. The most common side effects include: ingrown toenail, redness, itching, swelling, burning or stinging, blisters, and pain. Tell your doctor about any side effects that bother you or do not go away.
To report SUSPECTED ADVERSE REACTIONS, contact Ortho Dermatologics at 1-800-321-4576 or the FDA at 1-800-FDA-1088 or visit www.fda.gov/medwatch.
Click here for Prescribing Information, including Patient Information.